Why are there two sizes of Sheave Gauges?
The most common question we are asked is when to use a a +5% or a +2.5% Sheave Gauge.
The answer is:
+5% Sheave Gauges are designed to determine optimal sheave geometry. They should fit snugly in new or re-machined sheaves. If correctly sized wire rope is run through the sheaves there will be a minimum of friction which should extend the life of the wire rope.

+2.5% API Sheave Gauges are used to determine when Maximum and Excessive Wear levels has been reached.
In order to ensure optimal performance of sheaves and wire rope both type of gauges should be utilized.
For more information click here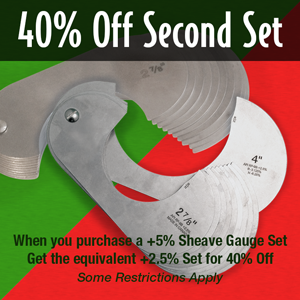 To take advantage of the offer simply order both sets and we'll give you the discount before processing the order.
We provide high quality molded Plastic and Stainless Steel Sheave Gauges for the Wire Rope Cable, Sling and Rigging Industries.
Stainless Steel Wire Rope Sheave Gauges
Contact us to Pre-order +2.5% Stainless Gauges
Stainless steel wire rope and sheave gauges for measuring worn sheave grooves on the end, together with a rope gauge on the shank. The gauges are produced in thick 18 gauge (0.05") Stainless Steel.
The Sheave Gauge is manufactured to Nominal plus 5%, the wire gauge measures the nominal size. When the sheave gauge is placed in the groove, the geometries should match without any space at the sides or bottom.
Because the gauges are made in small quantities we can custom design sets specifically for your needs.
Standard sets available in 10, 12, 15, 20 and 30 blade sets. Custom orders can be manufactured in any size from 1 to 30 blade sets.
Imprint your company information on gauge orders of 25 or more.
ABS Injection Molded Plastic Wire Rope & Sheave Gauges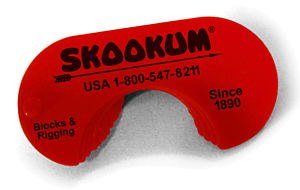 Now in Stock +2.5% Plastic Gauges
The original Wire Rope and Sheave Gauges includes 14 measurement blades, graduated from 1/2" to 1 1/2" with Metric equivalents. A gauge to measure a worn sheave on the end, together with a rope gauge on the shank, makes this unique from any other gauge available.
This excellent promotional item can be imprinted with your logo and company information. They are a valuable tool which your customers will retained and use for years to come, keeping your contact information close at hand.
Available in several plastic colours and imprint colours.